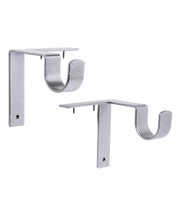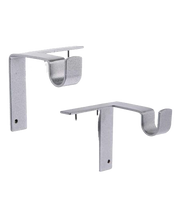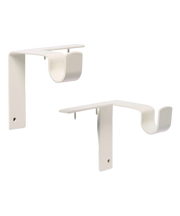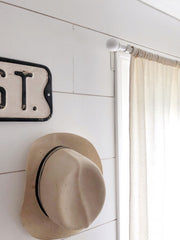 Double-click or pinch to zoom





The Original No-Drill Curtain Rod Bracket
Simply tap in the curtain brackets into the top of your window frame with a hammer — no need to measure, level, or drill holes in your walls.
Description
What's Included?
Specifications
Shipping & Returns
How to Install Curtain Rod Brackets in 3 Quick Steps
Experience hassle-free installation with our no-drill curtain rod brackets. No need for tedious measuring or leveling. Simply tap the brackets onto the top of your window trim and you're all set!
Place Bracket

Tap In

Hang Curtains
Do You Need a Support Bracket?
Have a wide window? Reinforcing longer curtain rods prevents unsightly drooping and wall damage. Curtain rods should be supported with a center support bracket every 60 inches to ensure proper stability.
Measure around wood frame
Pick size that works best
61" - 120" windows
Requires one center support bracket

Up to 60" windows
No center support bracket needed

121" and wider windows
Requires two center support brackets
No Damage Curtain Rod Brackets for Every Corner of Your Home
Kwik-Hang's user-friendly curtain rod brackets are the perfect fit for every room.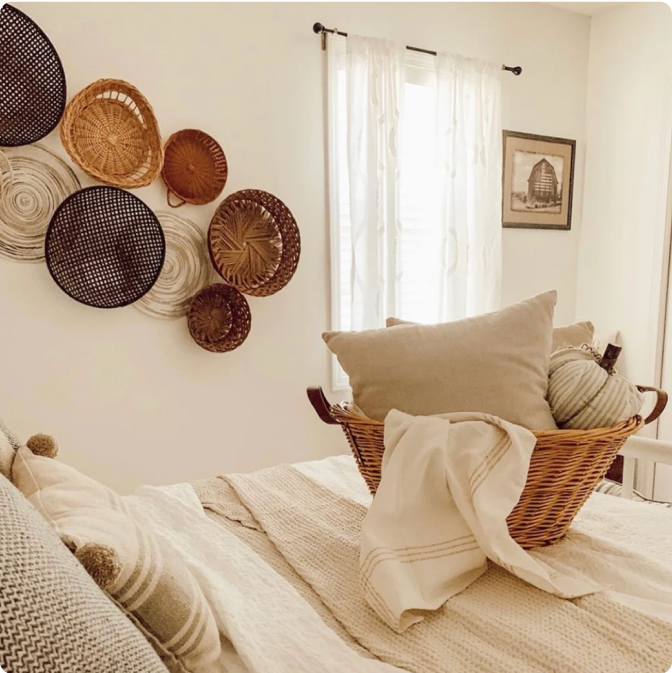 Bedroom
Transform your bedroom into a cozy sanctuary, adding style and privacy to your windows effortlessly.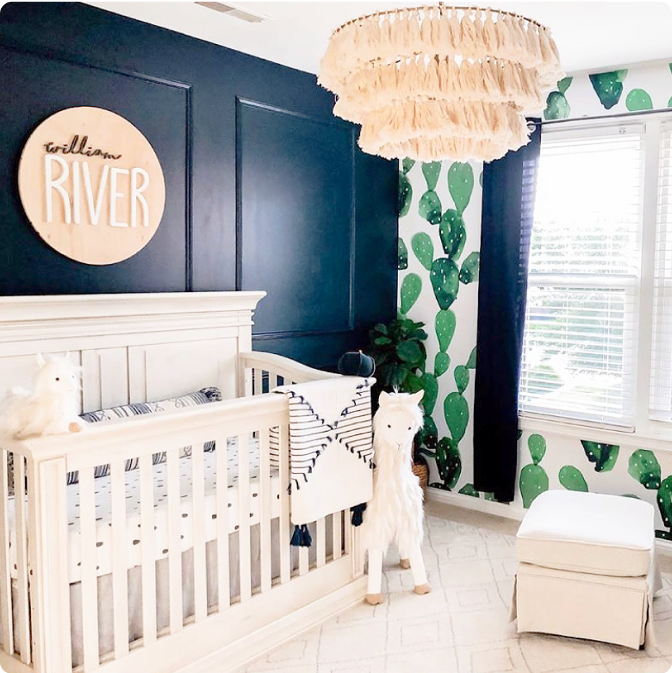 Nursery or Kid's room
Create a captivating space by adding a touch of charm that can withstand wear and tear from your little ones.
Living Room
Elevate your living room's style and elegance by creating a warm and inviting ambiance with ease.
Home Office
Use our mounting brackets to install curtains in your home office, study or library, adding comfort and light control to a tranquil space.
Dorm
Make a temporary living space feel like home. Install or remove Kwik-Hang's screwless curtain rod brackets in seconds, without leaving any wall damage behind.
The Kwik-Hang Difference
See why Kwik-Hang makes the best no-drill curtain rod mounting brackets.
Fast and Easy

Our no-drill curtain rod brackets are simple to install — no measuring or leveling needed.

Minimal Tools Required

Got a hammer? That's the only tool you'll need to install Kwik-Hang's no-drill curtain rod brackets -- we promise.

Zero Damage

Never ruin your walls again. Kwik-Hang is ideal for renters, frequent movers or anyone who wants to avoid wall damage.

Perfect Curtains Every Time

Kwik-Hang brackets attach to your window frame— no measuring or leveling necessary. Hang your curtains right the first time, guaranteed!

Safe and Sturdy

Kwik-Hang's patented curtain rod brackets support up to 20 pounds, durable enough for heavy drapes and safe for use in households with kids and pets.
Frequently Asked Questions
How do Kwik-Hang curtain rod brackets work?

Our curtain rod brackets mount to the top of your window frame, helping you hang perfect curtains every time. All Kwik-Hang curtain rod brackets have a set of pins that attach the bracket to the top of the window trim and secure it in place — no drilling, nails or damage required. The curtain weight is distributed evenly along the L-shaped bracket, wrapping around the trim for a secure fit.
Do Kwik-Hang brackets work with every type of window?

Kwik-Hang curtain rod brackets only work with windows that have wooden trim or casings around them. Your window trim must be at least 1/2-inch width for the brackets to be properly installed. Our brackets are not recommended for use on oak, PVC, MDF, metal or plastic trim.
Do Kwik-Hang brackets work with every type of curtain rod?
What size brackets should I purchase?

You should buy brackets that suit the size of your curtain rod. Curtain rod size depends on the type of curtains you want to hang.

5/8-inch rods: Ideal for sheer or lighter curtains. Fits rods 1/2 - 5/8-inch diameter.
1-inch rods: Best for heavy curtains or drapery. Fits rods with 3/4 - 1-inch diameter.
How many brackets do I need to purchase for my window?

You will need one set of brackets for each window. If your window is wider than 60", please see the Window Size Help guide above for tips on support brackets.
How do I use Kwik-Hang curtain rod brackets on corner windows?

A corner window setup requires two curtain rods, one pair of curtain rod brackets (a left bracket and right bracket) and two center support brackets.

Follow our instructions for installing left and right brackets. Then install the center support brackets, each approximately 4 inches from the inner corner, as pictured below. (Click images to expand)

Remove one finial from each curtain rod and place your rods so that the finial ends point outward.

You may use a curtain rod corner connector if you wish, but it is not necessary.